Fanfold-to-Fanfold Transport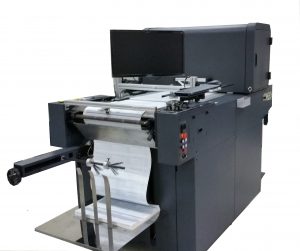 A highly productive setup with inkjet system printing on an offline fanfold-to-fanfold transport for small to mid volume production.
Its great flexibility and ease to change job, ease of transport handling , yet capable of running at speeds up to 300 feet per minute for a wide varieties of applications in DM addressing, forms printing and security printing is an important asset to most printer.
Mailbase Vacuum Transport
A heavy-duty base equipped with a versatile friction feeder. Inkjet system may be mounted onto the vacuum conveyor for offline imprinting.
It consistently feed and transport a wide variety of flat and multi-thickness products at speeds up to 245 feet per minute for a wide varieties of applications in DM addressing, commercial printing and packaging. The system can be used as an offline production system or simply remove the feeder and put it inline with other production flows.
Inkjet Drying System
JCI develops NIR (Near Infra Red) drying system to take advantage of its highly efficiency, low heat, low energy characteristic to achieve excellent performance on water base inkjet.
Module & Flexible
Depending the number of printhead use, the same number of drying emitter may be installed to dry the ink printed by the printhead. Different emitter width is also available to match the width of printhead. Besides, each emitter may be independently turn off when the printhead is not printing, hence saving on energy consumption.
Low Power Consumption
Using the near infra-red frequency band, the energy is focus on the ink instead of the paper. This increases efficiency of drying with less energy consumption compare to typical infra-red or hot-air drying system, hence greater saving on electricity bill. Besides, it can support higher speed inkjet printing.
Less paper shrink
With lower temperature, and less heat going into paper, there is less paper shrink. This is especially helpful to ensure better product quality.
Small Footprint
With smaller footprint, it is helpful when there is space limitation to install the dryer